About: Bad Rudi was a good dog, a lab mix who lived in Eugene Oregon. The picture below is Bad Rudi in his Wenonah Fishman canoe taken at Fern Ridge Reservoir in Eugene Oregon.
Paddle Pack: Korie Eugene Kuhn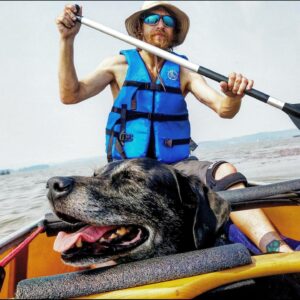 Rudi became "Bad Rudi" when a friend saw him doing something wrong and said, "Bad Rudi, is a good dog". Rudi passed away on November 11th of 2019.
Happy paddling on the other side of the Rainbow Bad Rudi!
---
---
We deliver canoes within 600 miles of Portland, Oregon
Free Demo Canoe Paddles in Portland, Oregon area
---
Paddle People – Portland, Oregon
Canoe paddles & canoes for sale since 2015
We bring canoes to people and people to water
We go the extra 600 miles!
---
Questions? Text, or call Jeff @ 503-956-0561
email: [email protected]