PADDLING WITH RUSS: The Healing Power of Friendship Nature & Canoeing
by Jeff Catlin
There was a time in my life when I had worked very hard to achieve a certain level of income and put everything on the line for my jobs. So much so that I had lost sight of the things I most valued in life. At the top of that list was being outside, in the wild, in a forest, or on the water. It doesn't matter too much which forest or lake or stream because just being there, an open place where I could let the worries of productivity reports and travel schedules melt away is enough to reboot an overdone life.
Sometimes my business travel daydreams led me into the fog of a summer morning on a perfectly flat pond where the only noises were my breath and canoe paddle striking the water joined by calls of wild creatures and the winds. Foggy echoes, long-lost images of early morning fishing trips with dad.
I'd been surrounding myself with machines. I woke up and made coffee in a machine, I'd ride to the airport in a machine and fly in yet another machine to arrive at a place where I would rent a machine to then visit the hospital job site where I installed machines…machines controlled by machines. It was at some point during this job that my life lost nearly all meaning.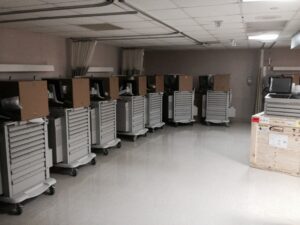 I met Russ through a mutual friend, and we immediately became best buds. We both loved dogs and coffee and getting outdoors. Russ had been a kayak and canoeing instructor and recreational guide for paddle trips and hiking expeditions in Oregon and Washington for years, and now he was talking with me about going down the Willamette River in a canoe.
Russ is a long-time member of the Willamette River Keeper; he was a Board Member and Russ has been Paddle Oregon's safety team for over a decade. Russ had the experience and local knowledge to help me find my way back to nature, a way to break out of the rat race I'd resigned myself to. A way to breathe new meaning, adventure and fun back into the empty shell of my workaday and task-list life. I'd been driving over the Willamette River for nearly 30 years and looked at it with longing but had no idea how to get out on this beautiful river. In Russ I saw a path back to the outdoors and that gave me great hope…
The first time I saw a Kevlar canoe I was at Russ's house. It was Russ's Kevlar Wenonah Voyager, a ultralight Aramid solo canoe that weighs only 34lbs, when I picked it up I almost tossed it over my head because it was so light. I was amazed and immediately started to dream about the potential of owning a lightweight Kevlar canoe. It was freedom, a super lightweight boat a person could carry down to nearly any body of water and paddle away in. If only I had known about these incredible canoes' years ago, I could have been out on the water for much more of my life enjoying the beautiful immersion in nature that is canoeing. I have found few things in life more rewarding than paddling canoe. It is one of the most deeply satisfying and uplifting outdoor experiences, and so, my journey into canoeing the great northwest with "The Canoeru" Russ Woodward began.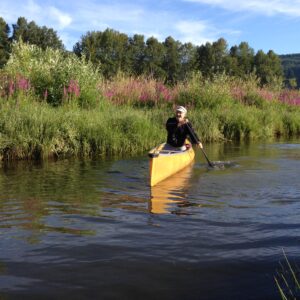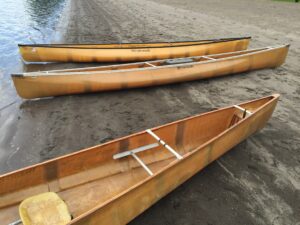 My First Overnight Willamette River Camp & Paddle
In a Wenonah Solo Encounter Aramid 17ft Canoe 38lbs
The Willamette River is one of the few rivers that flows north, it flows north from Waldo Lake right through Portland Oregon and it ends at the mighty Columbia River where the Willamette joins the waters of the Sandy, Deschutes, John Day, Umatilla, Hood, Walla Walla and Snake Rivers just to name a few… It's a beautiful river with a relatively amiable temperament and it is mostly flat especially the further north you get from Eugene.  Beware the wood piles, it is rare to find an obstacle that cannot be easily avoided if paddlers are paying attention to the horizon. Staying alert and wearing a lifejacket at all times is how people stay safe on the water. I am excited to say as of the time I am writing this 12/2022 the Willamette River Keeper plans to publish a new Willamette River Guide with the most up to date river map available, it will be available in 2023. The canoeing and kayaking community of the Oregon Willamette River Valley is excited for its release. It's a huge undertaking…on with the Oregon Canoeing Story…
It was a crazy day to depart for a river trip, worst Oregon windstorm in years. I followed Russ's old white dodge van with a Zombie Apocalypse Response Team Sticker on the back through miles long Willamette Valley grass seed farms, grass lands as far as the eye could see. We had strapped the 17ft Wenonah Encounter solo canoe I was paddling down with some good quality CAM straps, and tied the bow to the hood loops, but the canoe was violently sliding from one side to the other on top of my car in the storm, and it was nerve racking, but somehow the canoe stayed on top of my little Honda Fit. The canoe is longer than the care but it worked. We met the crew at a boat launch in the middle of nowhere.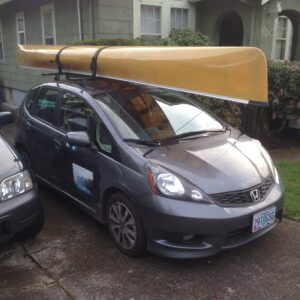 Story to be continued…last update 12.4.2022 -JC