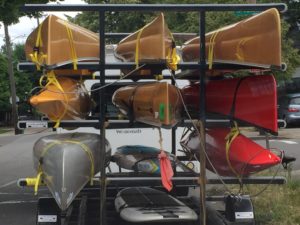 ---
Canoes for Rent
both models are safe, stable and big three seat canoes
very lightweight Kevlar boats
$100 per day  | $200 per weekend | $300 per week
Canoe Rental includes: 
Canoe, Invasive Species Permit, paddles and Life-jackets
---
Pick up in Portland, or we will deliver to the waterside
$100 minimum or $1.50 per mile for delivery service
---
Self-guided Canoe Trip Package
Canoe & Gear Only $699
Rent a Wenonah Kevlar canoe and camping gear for two
only $699 for 3 to 7 days
Includes: 18ft Champlain canoe or 19ft Seneca canoe, 3 person Alps Tent, Aluminum Table, 2-Jetboil stoves and fuel, 2 sleeping bags and sheets with pads, WaterBrick Water containers, and freeze dried food.
Bringing a shade and rain cover with you adds camping comfort. Rent a NRS Riverwing Canopy for an additional $100, for up to 7 days.
---
Please Note: Rental delivery charges are $100 minimum for delivery and pickup service, $100 covers both delivery and pickup, or $1.50 per mile whichever is more. Mileage calculated from Oregon Museum of Science and Industry (OMSI).  Please make delivery arrangements 24 hours in advance.
---
Below, Steve Piragis and team explain how to handle a Kevlar canoe. Someday we hope to rent a canoe from Steve and paddle the legendary Boundary Waters. Don't worry Steve, we will take good care of your stuff…
---
---
Questions?
Text, or Call Jeff
(503) 956-0561
---
---
We bring boats to people and people to water
We go the extra 600 miles!