Starting at $200 | By Appointment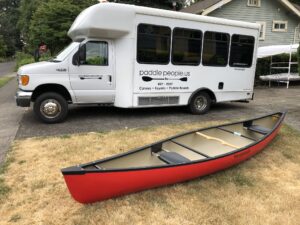 ---
Rental Canoes "To-Go" or Delivered
Rental fee includes canoe class for two
Please call ahead 
3 – 5 days in advance 
$200 (3 – 5 days)
$300 (6 – 14 days)
Rental fee includes canoe class for two
Includes: canoe, paddles and Life-jackets
---
Please text, or call Jeff @ 503-956-0561
email: paddlers@paddlepeople.us
---
NOTE: We practice COVID-Safe transactions. We keep a safe distance and wear a mask. Payments are "no-touch" electronic invoices.
---
Canoe Camping Package Rental
---
Only $599
Includes canoe, camping gear, freeze dried food for two
only $599 for up to 10 days
Also includes shuttle service up to 100 miles
---
Additional miles $2 per mile.
---
Includes: A canoe, shuttle service (1st 100 miles) and a 3 person Alps Tent, Aluminum Table, 2-Jetboil stoves and fuel, 2 sleeping bags and sheets with pads, WaterBrick Water containers, and freeze dried food.
Bringing a shade and rain cover with you adds camping comfort. We now include a River Wing with this rental package. You will be amazed how having a NRS River Wing makes any gravel or sand beach a viable camp site location.
---
---
Questions? Please text, or call Jeff @ 503-956-0561
---
Paddle People
We bring boats to people and people to water
We go the extra 600 miles!