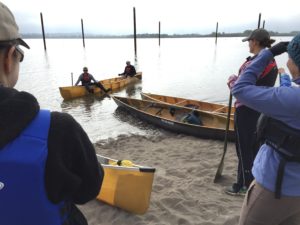 ---
for people just learning to paddle
Canoe | Kayak | Stand up Paddle Board (SUP) Lessons
private lesson, for one or two paddlers – $100
 $25 per person, for groups of 4 or more
---
Classes for beginners are about 3 hours long
one hour of orientation on the beach
2 hours on the water  
Use your own boat, or we can provide boat and gear, same price
---
We will happily customize our classes to best meet your needs.
---
What we will cover in our beginners paddling classes:
Handling a boat on shore
Getting in and out of the boat safely
Transporting your boat or board safely
How to be safe on the water
Introduction to the forward stroke basics for kayaks, SUPs, and canoes
Basic instruction on how to work with a partner in a tandem boat
Introduction to the USCA Sit and Switch method of paddling (for canoers)
Basic tips on steering and keeping your boat straight with minimal effort
Tips on how to select the paddle best for you
Information on where to go for different types of paddling in Portland and Southwest Washington.
---
To schedule a lesson please call
or text Jeff @ 503-956-0561
email us at: paddlers@paddlepeople.us
---
Buy Paddling Accessories Online – Click Here
Buy Paddle People Apparel Online – Click Here
---
We bring boats to people and people to water
We go the extra 600 miles!